Chris Haughey Brushes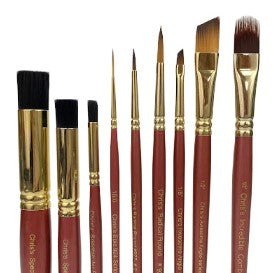 After many years of frustration of trying to find that perfect brush, Chris decided to create her own line of specialty brushes.  She wanted brushes that would produce cleaner strokes, be easier to control, and take the work out of painting. 
These brushes are high quality, long lasting, and the bristles provide bounce and control. 
Excellent for acrylics, thinned oils, and soft enough for watercolor.  These brushes are the best selling on the market and will make your painting world a happier place!